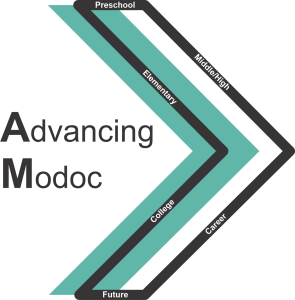 (click logo for official website)
Advancing Modoc is one of the ten county members participating in the collaborative effort of North State Together. North State Together constitutes a regional network comprising partners from various sectors who have united to enhance educational outcomes for all individuals in the northernmost region of California, spanning from early childhood to career stages. The county network teams within this framework bring together community leaders, partners from diverse sectors, families, and students, pooling their collective expertise to pursue a shared vision of achieving student success.
These teams consist of professionals and faculty members from K-12 school districts, community colleges, a CSU, and a UC within our region. Additionally, representatives from nonprofit organizations, government bodies, and local industry leaders also contribute. This coalition of practitioners and experts collaborates to steer initiatives at both regional and county levels. They also formulate practical strategies aimed at benefiting student populations in the North State.
Originally established as Advancing Modoc Youth in 2019, our initial aim was to enhance social mobility for residents of Modoc throughout their journey from infancy to 26 years of age. Following the acquisition of the K16 Collaborative grant in 2022, our Executive Committee broadened our scope to encompass the entirety of the cradle-to-career-and-citizenship spectrum. Thus, we transitioned to Advancing Modoc with a mission to foster the growth, training, and retention of every Modoc resident. Our approach involves establishing a strong and healthy foundation during childhood, delivering continuous education and training over a lifetime, and ensuring retention through initiatives led by youth themselves, alongside community development endeavors.